This summer, Troy and I have 3 mini motorcycle vacations planned. The first of these outtings was to Asheville, NC, where the BMW RA (BMW Riders Association) was holding their annual rally. For the first time, the grounds of the Biltmore were open to a large group for the purposes of camping. Our entry fee of $61 got us onto the estate, 3 nights of camping and unlimited visits to the house, winery and beautiful rolling countryside.
We started our journey of
approximately 500 miles one way from Indianapolis on Wednesday morning. We have decided this is really the ONLY day to travel. We headed out around 9:30 AM with the sun shining brightly, not a cloud in the sky and the open road before us. The traffic was amazingly light the entire ride out!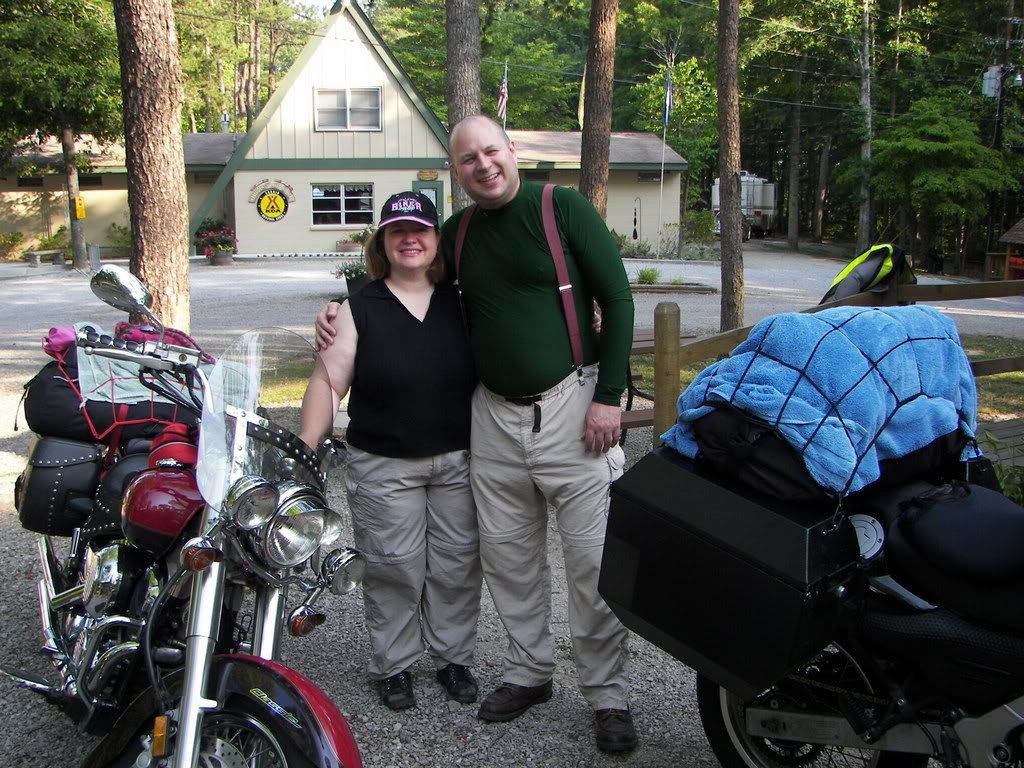 We only planned to cover about 300 miles the first day and we usually stop every 100 miles or so for gas, a drink of water and a chance to stretch our legs, so with Troy in the lead, we made our way through Louisville and Lexington, KY. After 200 miles, we were making great time. It was only 1:00 PM and we were
nearly 2/3 of the way done with our riding for the day! We always like to be off the road and nicely tucked into our camping site or a hotel by the time dusk hits. We were definitely on track to make it!
Just outside of Lexington, we stopped for a leisurely lunch at Cracker Barrell. When we're out
riding this is sometimes a frequent stop for us. They have a great selection of foods and we can eat pretty reasonably. When we arrived, the lunch crowd was just leaving. Perfect! We took our time and talked about what a beautiful ride it had been. The temperature was nice, the traffic light, gas prices dropping as we headed south. It was wonderful.
After about an hour and a brief stop in the "country store" for a sweet treat, we suited up and headed for the Corbin
KOA. When we arrived around 3:30, we were greeted by Debbie, one of the proprietors and directed to the Kabins. We really like the KOA Kabins. They are always clean, provide relief from any inclement weather and we don't have to set up a tent, so that's great!
With our bikes unpacked, we decided to head to the Cumberland Falls State Park to see the sites and grab a little dinner. For what it's worth, Kentucky is quite a bit hillier and curvier than Indiana. The road (all 15 miles of it according the CONSTANT signs) up to the falls was quite windy and I think the top speed was about 35 mph. I'm sure the scenery along the drive is actually quite beautiful, but since I'm not really a huge fan of riding curvy roads, at the end of it, I was ready to be off!
Every year, Troy and a group of his friends spend 4 days or so in the cabins that are available for rent at the park, so it was really great to have him show me around up there.
After the falls and the cabins, we made our way to the lodge, which overlooks the Kentucky river, and had dinner. One of our meal companions was a raccoon that was right outside the window. He was quite happy to feast on the seed that the birds drop from their feeders. It was very cute!
By the time that we arrived back at the KOA, it was nearly 9 PM. On our way in, I had spied an inviting swimming pool that was open to the guests of the campground, but unfortunately the sign said it closed at 9 PM. It was a Wednesday night and the campground wasn't very busy (read not many kids around!), so I spoke with Debbie and she agreed to let Troy and I take a dip. It was a refreshing ending to an amazing day of riding.
The next day we finished the final leg from Corbin, KY to Asheville, NC
- about 200 miles. Before we left I had heard that the ride on 40 from Knoxville, TN to Asheville, NC was beautiful. All I have to say is that beauty is in the eye of the beholder. From my perspective (as a motorcyclist who has had a crash on a curve), it was a bit frightening sometimes. My perspective might be a bit skewed though since I would have sworn that scariest section of road stretched for 100 miles.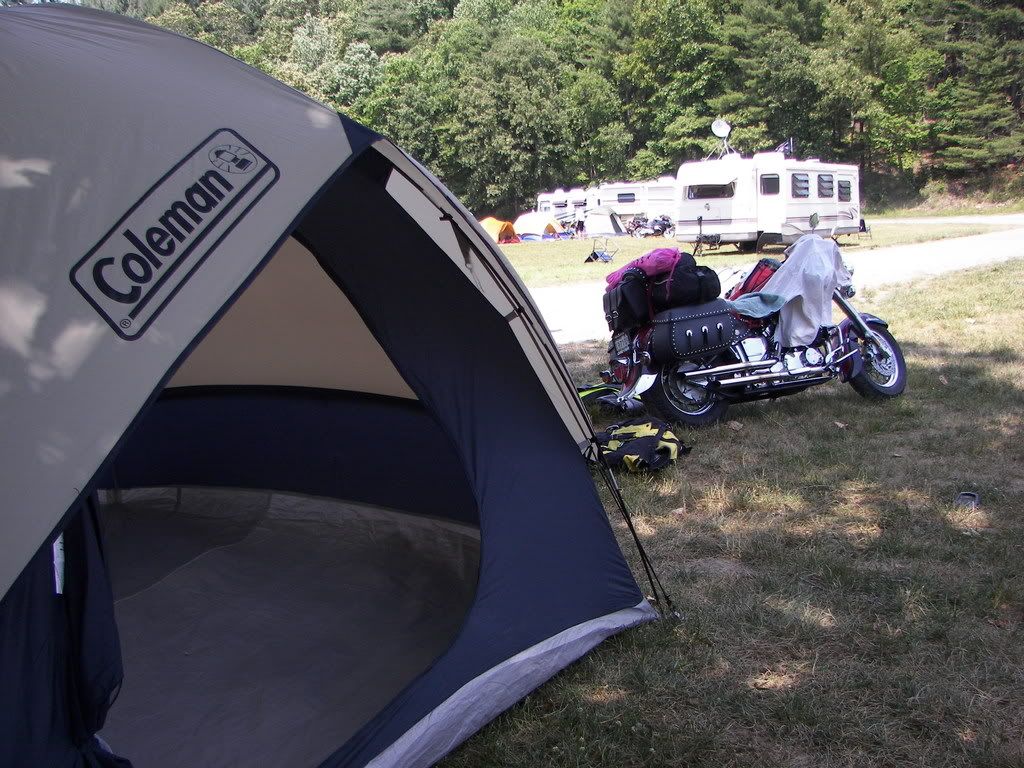 On the way back, I discovered it was only 21 miles and not nearly as scary as I had thought at first blush.
When we arrived at the Biltmore in Asheville, we were flagged through the front gates and directed to the registration tent where we were provided with arm bands and a map of the estate. Let's just say it's a BIG place. Originally, when George Washington
Vanderbilt, the youngest grandchild of the "Commodore", built the estate, he owned 125,000 acres. After his death, all but 8,000 acres were sold off. While it might sound like his estate was cut to almost nothing, 8,000 acres is a LOT of land!
We wound our way through the maze of little roads on the Biltmore estate until we reached the BMW RA Campground. The registration had opened at 8:30 AM, so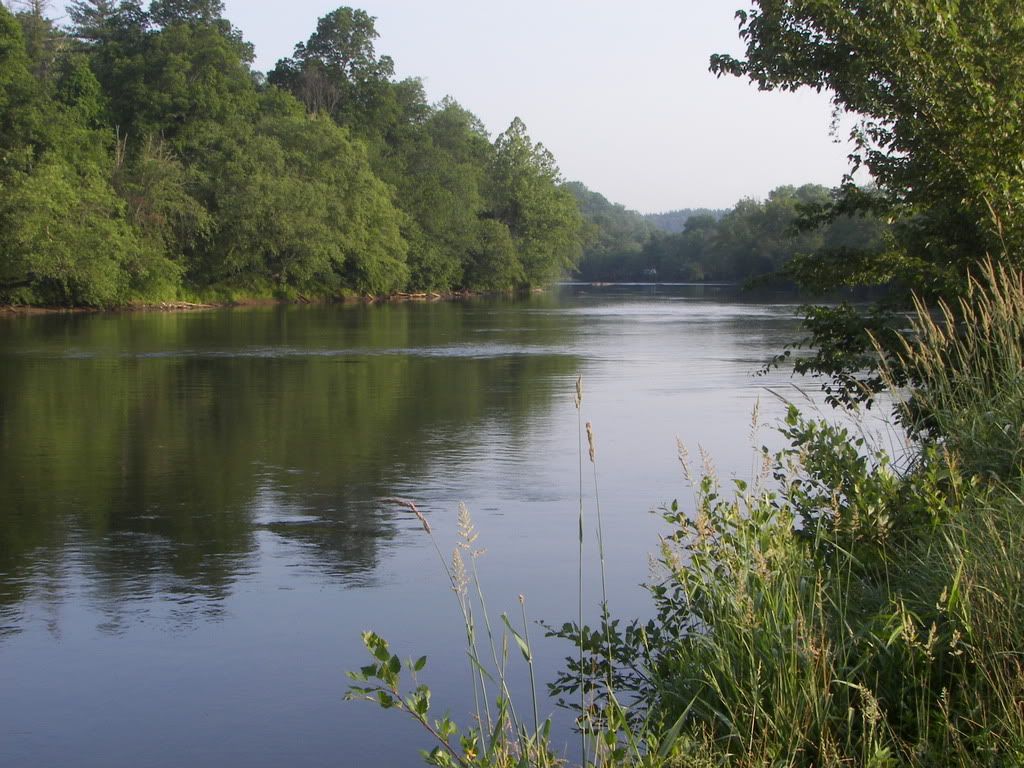 by the time we arrived around 1:30, lots of the best tent spots were taken. As with Indiana, North Carolina was also having a bit of drought, so the area where we were to camp was filled with spotty patches of grass and sandy ground. There also wasn't much shade. Fortunately, I take my handy Troy with me and he was able to find one of the last shady spots under one of the only trees in the area. Yea, Troy! Yea, shade!!! The only problem we eventually found with our lovely shady piece of real estate was that it was next to the gravel road and by the time we left, even the book I had been reading was embedded with sand. Ick.
Although we have been to several BMW MOA (Motorcycle Owners of America) rallies, this is the first BMW RA rally that we have attended. They are a much smaller organization and I think they may have underestimated the amount of people that would show up. When a group this large is camping, there are several necessities that must NOT be overlooked. These are: food, water, and bathing facilites. For the food, the Biltmore people had set up a tent where you could buy breakfast, lunch and dinner. Unfortunately, it was a monopoly situation and the prices reflected that. Never before have I seen someone have to pay over $14 for a farely standard breakfast of eggs, sausage, biscuit and juice. OUCH!
Although we were next to the French Broad River, getting potable water was also a chore. This is an especially bad situation when it's so hot and there is a minor drought going on. The only sources were a couple of pumps where lots of people gathered to satisfy their frequent thirsts.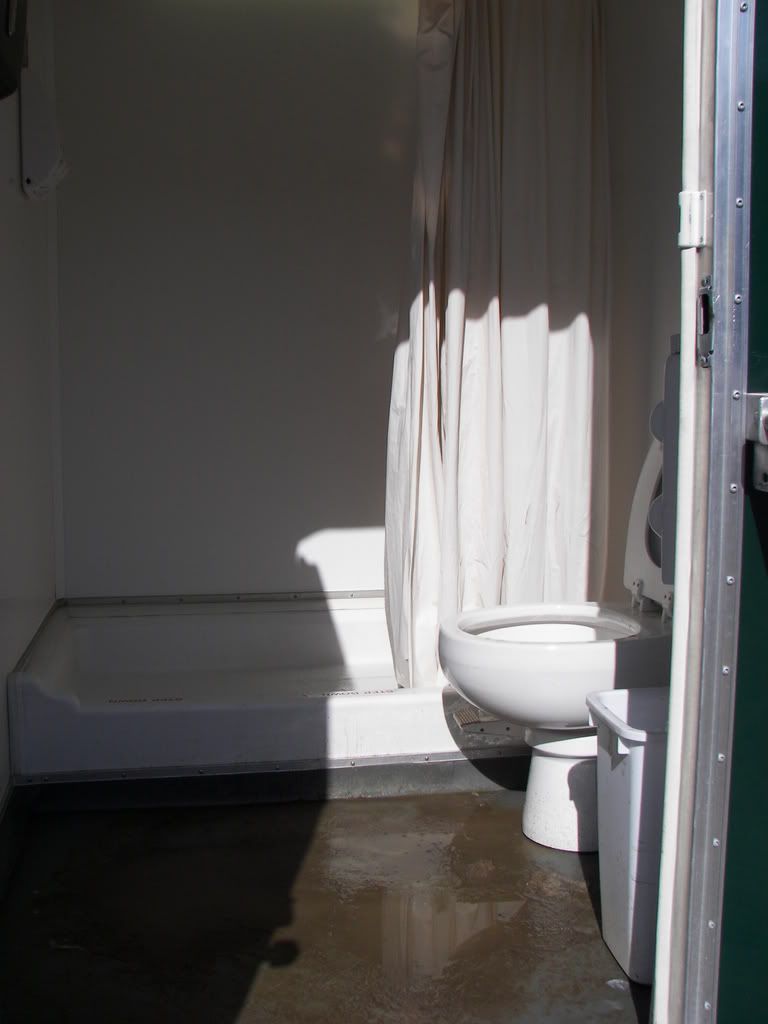 Finally, the shower facilities, while quite ingenious, grew QUITE dirty because of the dusty surroundings and lack of upkeep. There were a serious of small trailers in a row. Each trailer contained 3 units and in each unit was a toilet, a small sink and a shower stall. On the outside of each unit was a red/green indicator light which would tell you if the unit was occupied or unoccupied. Although I was suspect that the water in the shower would actually be hot, I was pleasantly surprised the first time I used it.
At the beginning of the rally, they were nicely stocked with toilet paper and paper towel. Unfortunately, 3 days later, that was no
longer the case. It was then I was glad that I had decided to pack my own roll of toilet paper.
In addition to the house, winery and gardens, Biltmore also has lots of outdoor activites. On Friday, we were scheduled to participate in a little adventure on some off-roading Segways. These are the little scooter-like machines that contain a
gyroscopic device to keep them upright. They were soooo much fun! To go forward, you simply lean forward, back you lean back. To turn left you lean the handle left, right to go right. It was quite easy once you got the hang of it and you almost forgot you were riding on one. At our scheduled time, there were supposed to be three others in our group, but they never showed up, so Troy and I had our guide, Chuck, all to ourselves for over two hours! He was great at telling us all about the history of Biltmore as well as its booming tourism facilities of today. He even paused the tour so that Troy and I could film ourselves riding the
Segways! It was just so much fun and I HIGHLY recommend it!
After our Segway experience, we were a bit hot and VERY hungry (seems like all we do is eat, huh? hmmmm), so we headed over to the Bistro for lunch. We enjoyed an appetizer and flatbread pizza made with lots of fresh mozzarella and each had a glass of the estate's Reisling. YUM!
With our tummies full and since we were basically in the neighborhood, we ventured over to the little farm area where the estate's livestock are kept. According to our guide, all of the animals on the estate have a job. The chickens (all female) provide the eggs that are served at the Biltmore Inn. The angora sheep provide wool that is used in various clothing items sold on the estate and the draft horses, Bert and Ernie, often pull the occasional wagon to transport goods around the estate. Draft horses like them are especially great since they eat very little. They only consume 1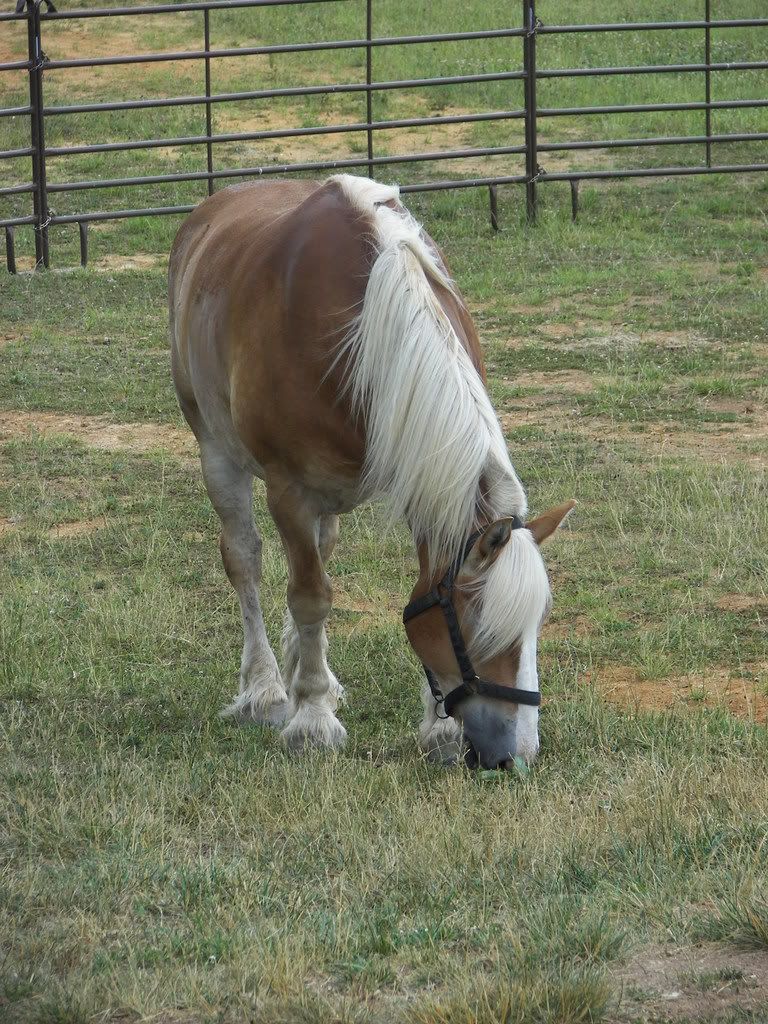 measured cup of feed and 1/2 of one bundle of hay per day. The reason they can eat so little and work so much is that they are built for strength and not speed. They have very low metabolisms.

Once our eventful morning and afternoon had concluded, we were both so exhausted that we each grabbed a shower before the line formed and decided to take a nap. Our intention had been to rest for a bit and then head out for a little dinner. At about 6:30 PM, we came to the unanimously conclusion that in the race between sleep and food, sleep was the winner, hands down. We momentarily considered eating a bit of our camp food, but even getting the little stove out seemed too much effort. By 9:00 PM, we were both on our way to a good night's sleep. (We are too told for all of this adventure stuff. LOL)


When we woke up Saturday morning, I ventured to the bathroom and bumped into another member of the Indianapolis BMW club. Troy and I had thought we were the only ones there, so it was nice to see a familiar face. A little while later we met them in the breakfast tent and shared stories about our adventures at the Biltmore so far. It was nice to catch up.


Although we had originally planned to drive the entire 500 miles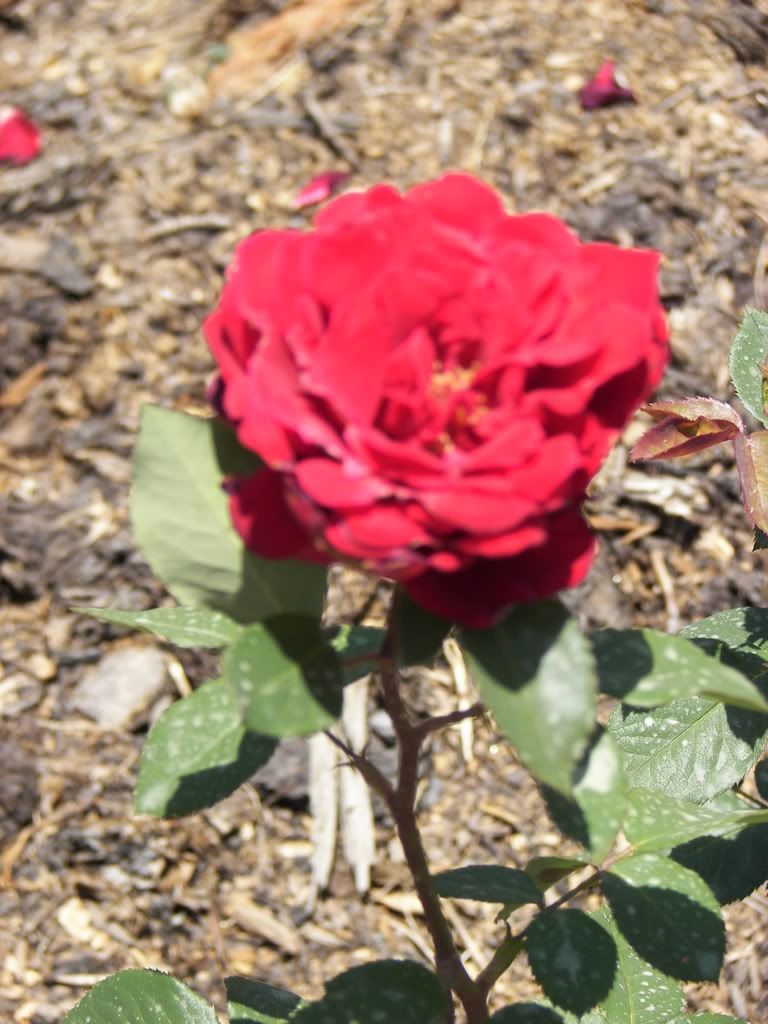 back on Sunday because I wanted to make sure that we had seen all that we wanted to see, we instead decided to take off on Saturday afternoon to make it part way back and have a more leisurely ride on Sunday. So, for our final day at the Biltmore, we got up early and toured the house. It's quite a place! When I visited back in 1998 with my family, we had an actual tour guide. It's so busy now that most people to take the audio tour. For $8, you get a map of the house and the corresponding numbers to press on the audio tour. It was very informative and it probably allows a lot more people to see the house.
Our final stop was the garden and they were just starting
to bloom. There greenhouses full of botanical goodies and they roses were simply gorgeous. I'm sure that the original landscape designer for Biltmore, Frederick Law Olmstead, would be quite pleased.
The one thing we didn't get to do while in North Carolina was to visit the Blue Ridge Parkway. I know it was something that Troy was really looking forward to sharing with me and I was too much of a wimp to want to participate. I'm disappointed in myself about that and I hope that I can remedy that some day with another trip out to that beautiful area of our country.