Ok, so I know I'm a little late to consider this really news, but I had to share this experience anyway!
On Friday, July 20th, Troy and I joined a few hundred other crazy people for the release of the last book in the Harry Potter series. I've actually only read the first 2 1/2 books or so, but who knows when this kind of hooplah surrounding a book will happen again, so we decided to brave the downtown city streets of Indianapolis to see the show. The fans of Mr. Potter did
NOT disappoint!
There were the young and old, men and women, the geeky and the slightly less geeky. I was really amazed to see how many parents had their very little kids out in all of the mayhem. (The book wasn't actually released until 12:01 AM on Saturday, July 21.)
Our timing was impeccable. We arrived just as the 10 second
countdown to 12:01 AM started. We stood just inside the door and could feel the excitement build as the impending moment approached!
When the cheering had ceased, we noticed another countdown of sorts. Apparently those who had preordered the book or arrived MUCH earlier in the evening were given colored wristbands which denoted their order in line. Throughout the evening, a clerk would announce the next color of wristband to be checked out. In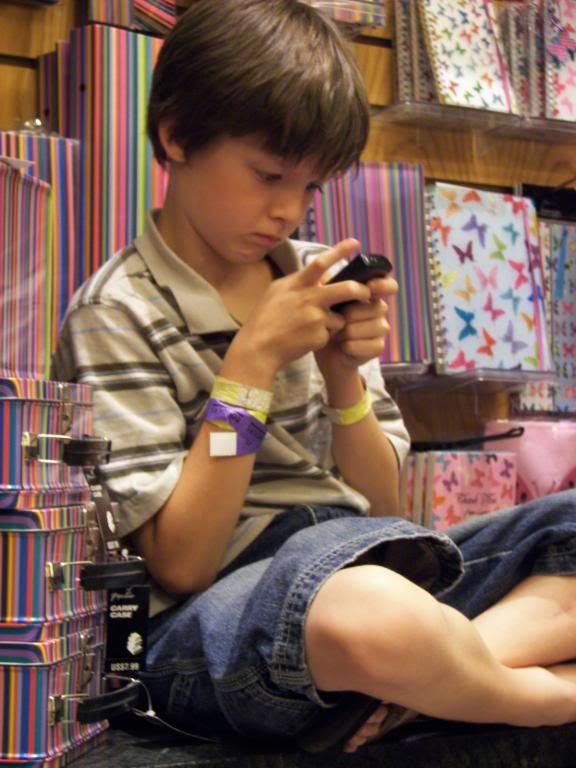 addition, within each color, it was broken down even further according to names of characters from the Harry Potter series. It was really quite a good way of organizing the massive crowd. Because Troy and I were Johnny-come-latelies, we knew we would be the last to be queued, so we decided to find a better place to wait and the balcony overlooking the crowd seemed a great place to relax and people-watch.
About 30 minutes into the wait (which ended up being about 2 hours long in total), we witnessed a very interesting transaction. We had just been commenting on a man who was probably in his mid-thirties who seemed quite out of place. He was wearing shorts, a tank top, flip-flops and more bling than I think I even own. He was accompanied by two 20-something barbie dolls who were apparently not please with their lot in life. They were wearing the dreaded purple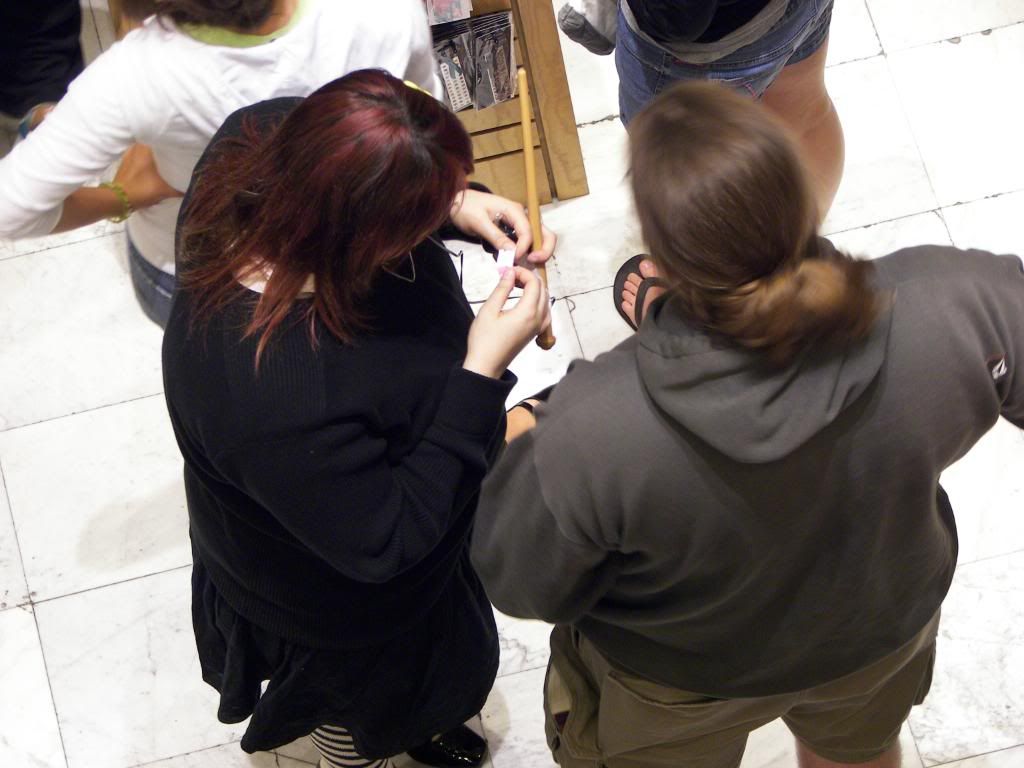 wristbands, which meant they would be helped last, only shortly before those of us without any wristbands at all! OH MY! Well, obviously this could not be tolerated! There was a couple standing near him who had a blue wristband and they were just getting ready to call blue. The bling-man's solution? Whip out a $100 bill from his wad of money and offer it to the unsuspecting young couple. Well, they did what I would have done. They grabbed that $100 from the silly man with the big wallet and tiny..... and ran.


Of course, a couple of minutes later, apparently the girl said to her boyfriend something about not wanting to wait so long, so he had the clerk break the $100 bill and then he proceeded to pay someone else $20 for their pink wrist band, which was one step closer to checking out.


Ah, the insanity that is Harry Potter and the capitalist system!